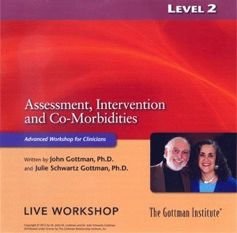 Deepen your understanding of Gottman Method Couples Therapy.
       Expand your strategies and interventions in your counseling work with couples!
 - Learn to internalize and integrate the powerful, research-based Gottman Method Assessment and Intervention techniques. 
 - Gain insight as to when to use these methods and when couples therapy is contraindicated.
 - Become skilled in using our Level II Clinical Manual including revised Gottman Core Assessments, Gottman Supplemental Assessments and more than 50 Gottman Interventions.
 - You will practice using Assessments and Interventions in group role-plays, view demonstration films, and participate in extensive discussions about the Gottman Method.
 - Receive supportive coaching from a Senior Certified Gottman Therapist as you participate in experiential exercises.
Earn 20 CE's!  We are offering in Chicago, Illinois, the Gottman Level 2: Assessment, Intervention, and Co-Morbidities professional training for couples therapy. These Level 2 workshops are presented live in the new Three-Day Format. Each day's presentation runs approximately eight and a half hours - see workshop outline for times and details.
*** Discounts are available for registering for both Level 1 and Level 2 trainings, all 3 trainings. See registration page for more info or call Michael at (847) 328-0106.

About the Level 2 Gottman Couples Therapy Workshop:
In the Level 2 training you will have the opportunity to practice and integrate Drs. John and Julie Gottman's Assessment and Intervention Methods. Our goals are to immerse you in the Gottman Method and help you gain confidence in using the techniques in your clinical work. This three day training is also the next step toward certification as a Gottman Therapist. You will view original videos of couples from Gottman's famous "Love Lab",  as well as video of the Gottman's demonstrating assessment and interventions in case examples pulled from their private practice. You will get plenty of opportunity over the three days to practice using the interventions in role play to help you gain confidence using them with your couples. The last day we will focus on complicated cases involving co-morbidities. We will cover how to assess for them, when to treat and how to treat them in couples therapy. We will focus on cases involving affairs, PTSD, addiction and domestic violence.
In this three-day workshop, you'll be able to:
Assess a couple's "Friendship Profile", "Conflict Profile", and "Shared Meanings Profile".
Develop interventions that couples can use as antidotes to the "Four Horsemen".
Help couples to soothe physiological flooding.
Apply six modes of changing the "Attack/Defend System" in a couple's interactions.
Assist couples in establishing dialogue about their grid-locked conflicts.
Select and implement interventions to help couples deepen their "Friendship System" with rituals of connection.
Select and implement interventions to help couples create a shared system of values and meaning.
Identify and implement five different co-morbidities common to couples using Gottman Couples Therapy Assessment and Intervention.

Who should attend?
Participants working in the following fields will benefit...
Mental health providers
Allied professionals and clergy
Students and interns
Family clinic staff
Professors/teachers of couples therapy
Researchers in the social sciences
Employee assistance professionals
This workshop is also presented in the following cities and others: Philadelphia, Portland, Raleigh, Dallas, Atlanta, and New York.