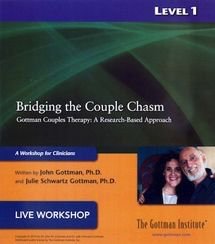 - Integrate research-based methods to maximize your competence and inspire transformation. 
 - Receive a 300-page Clinical Manual featuring new relationship assessment questionnaires and clinical interventions - a $150 value.
 - See on film Dr. Julie Gottman use all of the main interventions with a real couple.
 - Receive a certificate of completion from the Gottman Institute. For those interested in pursuing Gottman certification, this 2-day workshop fulfills the Level 1 requirement.
The Chicago Relationship Center now offers the Gottman Method Professional Workshop "Level 1: Bridging the Couples Chasm" training created by Drs. John and Julie Gottman. In this Level 1 workshop you'll learn the Gottman Method to Couples Therapy for your counseling practice. Completion of the Level 1 workshop is required before attending the Level 2 training.
Earn 12 CE's!  We are offering in the Chicago, Illinois area, the Gottman Level 1: Bridging the Couple Chasm professional training for couples therapy. This workshop is presented in a live presentation format. See Outline for presentation times and further details.
About the Workshop:
When couples enter the therapy office, they sting with pain and despair. They look to the clinician to referee chronic conflicts, fix their partners, and rebuild burned bridges.  Now, based on Dr. John Gottman's 35 years of compelling research with over 3,000 couples, there's a practical and highly effective approach to guiding these couples across the chasm that divides them. In this workshop, you will be provided with a research-based roadmap for helping couples to compassionately manage their conflicts, deepen their friendship and intimacy, and share their life purpose and dreams.
In this inspirational two-day workshop, you'll learn:
New research-based assessments and effective interventions to help understand couples' struggles
Research-based strategies and tools to help couples successfully manage conflict
Skills that empower couples to dialogue about their worst gridlocked issues by uncovering their underlying dreams, history, and values
Methods to help couples process their fights and heal their hurts
Techniques for couples to deepen their intimacy and minimize relapse
You'll receive a 300-page Clinical Manual...  featuring new relationship assessment questionnaires and clinical interventions.
Clinicians who take this workshop will be equipped with new methods and tools to help couples break the cycle of criticism, defensiveness, contempt and stonewalling.  Through demonstrations and films from the clinical office, you'll see how to apply the research-based principles and interventions of Gottman Method Couples Therapy to strengthen:
The Friendship System - the building block for intimacy, passion, and good sex
The Conflict System - the basis for helping couples manage solvable problems and understand and manage irresolvable differences
The Shared Meaning System - the existential foundation of the relationship that helps couples create shared purpose in building a life together
For info re the Feb. 27-28, 2020 Gottman Level 1 Workshop sponsored by University of Chicago School of Social Service Professional Development Program click here: