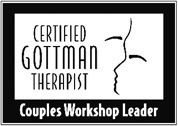 These Gottman Professional Training Workshops provide you with research-based instruction and resources that you can use immediately with your clients in couples counseling. There are 3 levels in the Gottman professional training program. You may train in one, two, or all three levels. Each level provides you with a progressively deeper level of instruction and understanding. Upon completing each level you will receive a certificate of completion from The Gottman Institute. Completion of all 3 levels of this program concludes with the fourth and final level - the Certification Track, leading to your designation as a Certified Gottman Therapist.
When it comes to completing trainings required to become a Certified Gottman Relationship Therapist by The Gottman Institute - Chicago and The Chicago Relationship Center are excellent options due to factors such as expertise, accessibility, and cost. Dr. McNulty has a broad background in counseling and psychotherapy. He is of the most longstanding members of the Gottman trainer group, certified in The Gottman Method of Relationship Therapy in 2005 and in the first group, chosen by Drs. John and Julie Gottman, to present all the 3 levels of Gottman training and The Art and Science of Love: A Weekend Workshop for Couples.  Other talented presenters co-present larger events.  All of our trainings are held within 20 minutes (non-rush hour traffic) of O'Hare International Airport. Part of our mission is to provide competitive rates for professionals and students to make training more affordable. Very reasonably priced lodging options are offered through Techny Towers Conference Center, where our events occur. In addition, significant discounts are generally available through the Sheraton Chicago Northbrook Hotel, just a half mile from the facility. 
https://www.eventbrite.com/e/bridging-the-couple-chasm-gottman-couples-therapy-level-1-training-tickets-138878614675My first introduction to Dr. McNulty was in October, 2012 when I took Level One of the training in Gottman Couples Therapy.  He was the sole presenter in this two-day workshop.  I was so pleased with his teaching style and with what I learned that I signed up for Level II the following year.  He co-led that five-day workshop with a colleague.  My learning in Level II was just as powerful and it had been in the prior course.  
In all my experiences with Dr. McNulty I have found him to be extremely knowledgeable, highly empathic, very engaging, and completely approachable.  I would not hesitate to refer clients to him, no matter how complex their dynamics. His personal humility and collaborative style, as well as his high level of skill and knowledge, would help him engage with and be helpful to most any client, student, or clinician.
ANN M. BERGART, PH.D., LCSW
Associate Professor, Aurora University School of Social Work (retired)
Adjunct Faculty, School of Social Service Administration, University of Chicago
Adjunct Faculty, School of Social Work, Loyola University Chicago
Earn up to 52 CE's!  We offer all three Gottman professional workshops: the Level 1: Bridging the Couple Chasm, the Level 2: Assessment, Intervention and Co-Morbidities, and the Level 3: Practicum Workshop in Gottman Couples Therapy. These trainings are presented in a live presentation format. The Level 2 workshop is now presented in the new 3-day format. Each day's presentation runs approximately eight hours - see workshop outline for exact times and details.
*** Discounts are available for registering for both a Level 1 and Level 2 training; both a Level 2 and Level 3 training; or All Three Gottman professional trainings. See registration page for more info or call Michael at (847) 328-0106.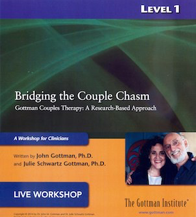 Gottman Level I:
Bridging the Couple Chasm
Two Day Training - 12 CE
Not Schedule at this time. 
Check back fher for dates
Integrate research-based methods to maximize your competence and inspire transformation in your counseling practice. 
Receive a 300-page Clinical Manual featuring new relationship assessment questionnaires and clinical interventions.
See on film Dr. Julie Gottman use all of the main interventions with a real couple.
Receive a certificate of completion from the Gottman Institute.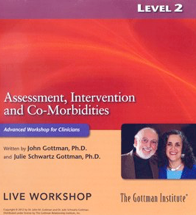 Gottman Level 2:
Assessment, Intervention, and
Co-Morbidities
Three Day Training - 20 CE Hours
 
Not Scheduled at this time.
Deepen your understanding of the Gottman Method. 
Practice using Assessments and Interventions in group role-plays, view demonstration films, and participate in extensive discussions as you learn the Gottman Method.
Become skilled in using our Level 2 Clinical Manual including revised Gottman Core Assessments, Gottman Supplemental Assessments and more than 50 Gottman Interventions.
Receive a certificate of completion from the Gottman Institute.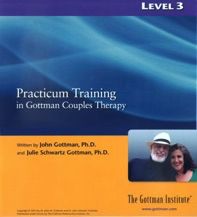 Gottman Level 3:
Practicum Workshop in Gottman Couples Therapy
Three Day Training - 20 CE Hours
Oct 9-11, 2023 - Online
Click on this link for more info and to register.  
Effectively use the Oral History Interview during a couple's assessment and understand its implications.
Clearly explain to a couple their strengths and challenges in terms of the "Sound Relationship House".
Help Partners identify their own "Four Horsemen" and understand the antidotes.
Select and utilize appropriate tools to help a couple deepen their "Friendship System".
Presented by Michael McNulty, Ph.D. Senior Certified Gottman Therapist Couples Workshop Leader