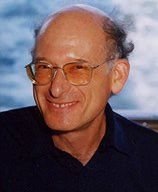 The Chicago Relationship is proud to sponsor Dr. Dan Wile,
Developer of Collaborative Couple Therapy,
and his acclaimed Couples Workshop...
Developing Couple Wisdom
Turning Alienated Exchange into Intimate Connection
This weekend retreat for couples is led by a couple, Dan Wile, PhD and Dorothy Kaufmann, LMFT. In the workshop, they teach what they've learned over the 35 year history of Collaborative Couple Therapy about how to have an engaged and fulfilling relationship. The heart of the weekend is experiential exercises you do privately with your partner. Presenters help each couple as needed. LGBT friendly.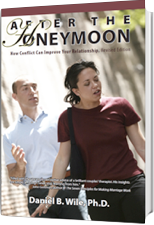 Workshop Summary
The quality of life in a relationship depends on our ability to recover from the inevitable periods of fighting or withdrawing; that is, from turning each other into adversaries or strangers. At a minimum, we want to keep such fighting and withdrawing from destroying the relationship. But it is possible to turn these hazards into means for deepening the relationship by conducting a recovery conversation. In such a conversation, we go over the fight or withdrawal we were just in, but with an appreciation for each partner's struggle and recognition that each partner's position makes sense. Typically partners don't have recovery conversations. They don't talk afterwards about their fights; they're afraid of rekindling them. 
In this workshop, we show what a recovery conversation looks like and how to create a perspective from which partners can jointly guide the relationship. In an optimally functioning couple, fighting and withdrawing become opportunities for intimacy.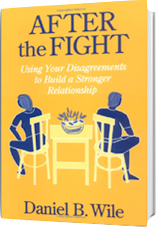 Comments by Past Participants about the Couples Workshop
Excellent! The leaders were wonderful, very knowledgeable, and collaborated well together.
What I liked best was the tools to help me think more about my words during conflict.
I am very grateful for this weekend. Dorothy is a sweet lady!
This has been a truly wonderful weekend. I feel that I came in a state of resignation. As a therapist I know a lot of material but it's a very different thing to be living it oneself.
The packets are great – very well written and organized. I really also loved the exercises between my partner and me.
The gift of having the weekend learning from you two is so inspiring.
I found that every private session (5-10 minutes of couples only conversation) yielded something new about my partner that I didn't know before. And this enhanced my curiosity about and empathy for him. I also learned new things about myself and was reminded of other important things about us as a couple.
The Sunday afternoon recovery conversation and the gentle, curious questions and supportive inquiring to expand on the experience was wonderful. I loved the positive "reservoir of good will" building and the Recovery Conversations.•It was a huge beautiful turning point for both of us.
The tag team between you two was very enlightening; seeing your dynamic together really meant something to my husband and me.
Especially useful was hearing about how Dan and Dorothy navigate their own struggles.
The tone and rhythm of Dorothy and Dan was very comforting and created a sense of safety.
Amazing!! Best workshop I've ever attended. Well-paced, great exercises, expert facilitators.
Loved your energy together.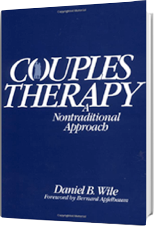 Workshop Leaders
Daniel Wile, PhD, is a couple therapist in private practice in Oakland. He is an Assistant Clinical Professor at the University of California, Berkeley, has published three books and numerous articles on couples, and gives professional workshops nationally and internationally.
Dorothy Kaufmann, PhD (French Literature), LMFT, is now a licensed marriage and family therapist, after a long career teaching and writing in the humanities. She works with couples and individuals in a private practice in Berkeley, California.  She co-presents with Dan Wile, PhD at his workshops for couples and professionals. 
There are no Dan Wile Couples Workshops scheduled at this time.  For more info on Dr. Wile's work, and to join his mailing list for his latest writings, go to DanWile.com