Gottman Level 3 Clinical Training - Gottman Method Couples Therapy:  Practicum
October 9-11, 2023
Presented by Mike McNulty, PhD & Sinead Smyth LMFT
To register, click this link.
Gottman Level 3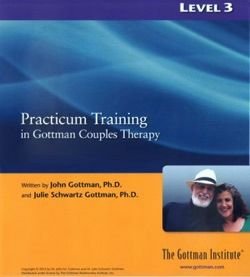 Fine-tune and master your skills using Gottman Method Couples Therapy.
       Practicum training features video participation and case discussions.
 - Effectively use the Oral History Interview during a couple's assessment and understand its implications. 
 - Clearly explain to a couple their strengths and challenges in terms of the "Sound Relationship House".
 - Help Partners identify their own "Four Horsemen" and understand the antidotes.
 - Select and utilize appropriate tools to help a couple deepen their "Friendship System".
 - Clarify a couple's conflicts in terms of solvable, perpetual, and grid-locked problems.
 - Use the "Dream Within Conflict" technique to help a couple feel hopeful and to achieve break-through with their perpetual conflict.
The Chicago Relationship Center now offers the Gottman Method professional workshop "Level 3: Practicum Workshop in Gottman Couples Therapy" training created by Drs. John and Julie Gottman. You'll fine-tune and master your skills using the Gottman Method in your counseling work with couples in your practice. Completion of the Level 1 and 2 workshops are required before attending the Level 2 training. See below for a complete listing of Pre-Requisites before registering. Sign-up for all three workshops and save $150!  See registration for details.
Mike,
I just wanted to give you an update on my experience using an intervention post-practicum.  I had a session with my couple last night and identified an opening to use the Dreams Within Conflict intervention on an issue in which they have been consistently stuck.
The net of this is that the intervention was effective and powerful for them and for me.  In doing the practicum, I learned to be more confident and firm sticking with an intervention without being unnecessarily rigid.  The intervention slowed down the couple's emotional process and tendency to escalate quickly, plus it is something they can see themselves doing on their own.
So thanks much for your great training at the Level 3 class.  It's feels great to be able to put my experience to use immediately.
Peace,
Stephen
Earn 20 CE's!  We are offering the Gottman Level 3: Practicum Workshop in Gottman Couples Therapy professional training for couples therapy. These Level 3 workshops are presented live in the new Three-Day Format. Each day's presentation runs approximately eight and a half hours - see registration page for times and details.
*** Discounts are available for registering for All Three Gottman professional trainings. See registration page for more info or call Michael at (847) 328-0106.
About the Level 3 Gottman Couples Therapy Workshop:
During the Practicum workshop, participants will examine videotaped cases of couples brought in by workshop colleagues. These cases are used as learning and teaching tools to deepen your understanding of when and how to use various Gottman Method approaches and interventions, and how to break destructive patterns and replace them with meaningful interactions.
We will then demonstrate an assessment or intervention session appropriate for each that couple's struggle as role-played by audience volunteers. These demonstrations represent the true resistances and co-morbidities we face as therapists and how to we can transform them into effective healing methods for the couple. Following each demonstration, participants have the chance to practice and refine their use of Gottman Method Couples Therapy through participation in role-plays, demonstrations and discussions in a small group setting. We observe each group and offer practical tips and technical refinements for the therapist. No criticism or negative judgement is allowed. Rather, efforts are made to create safety and security for all therapists present in an environment free of criticism and negative judgment.
After each role-play session, we'll lead discussions that include case consultations and nuanced details of the techniques previously demonstrated and provides guidance in developing a roadmap for clinical decisions.
There is no better way to learn how to apply the Gottman Method than this workshop.
Level 3 Pre-Requisites:
Master's or doctoral degree OR current enrollment in a graduate program within a mental health-related field
Completed Level 1 Training
Completed Level 2 Training
Therapy experience highly recommended, but not required...
Video Participation: Case Discussion in Certification Practicum
Participants are asked to bring a short (ten minute or so) video segment (on DVD or USB thumb drive) of difficult and challenging couples to the Level 3 workshop. The therapist's work with the couple will not be critiqued; in fact the video does not even need to show the therapist; just seeing the couple is all that is needed. The purpose will be to use these couples to illustrate how the Gottman Method can be applied to these tough cases. We'll describe how they would treat these couples and then participants from the audience will volunteer to role play these couples with us demonstrating using a variety of interventions with these couples. Participants will then have the opportunity to practice using these interventions in a supportive small group setting with other participants' role playing the couples from the videos.
Bringing a video isn't required, but it will help make the training more meaningful for everyone. If you cannot bring a clip, it would help to bring a brief written description of a challenging couple for the same purpose. This is for Case Discussion within the context of Certification Practicum ONLY and is not related to the videotaped interventions submitted for final Certification Review.  Note: We only support digital media on the DVD-format or on an USB external device (USB thumb-drive or external). DVD disk is preferred.